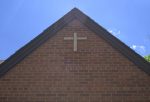 Divine Service — Reformation Sunday
October 29, 2017
9:00 a.m., Zion Evangelical Lutheran Church, Laramie
4:00 p.m., St. John's Lutheran Church, Kimball, Nebraska
Zion will use Luther's Divine Service, Setting Five of the Lutheran Service Book, in observation of Reformation Sunday. Pastor Debowey will lead the service.
We will join our sister congregation, St. John's in Kimball, Nebraska, for an evening Reformation Service.  Pastor John Hill, president of the Wyoming District, will preach.