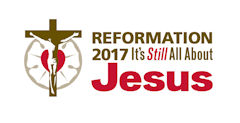 Public Invited
Mondays in October
7 p.m.
Zion Lutheran Church
On October 31, 2017, the world will celebrate the 500th anniversary of Martin Luther's posting of 95 theses inviting debate about practices of the Church. Luther and other reformers set in motion changes that would impact many aspects of Western society. For Lutherans, however, the Reformation is less about Luther than about his theology.
Members of Zion Lutheran Church invite the public to join us in a five-part study of the theology of the Reformation, led by Pastor Darrell Debowey. Sessions will be held at 7 p.m. on Mondays in October, beginning October 2.  Refreshments will be provided.
Zion Lutheran Church is located at the corner of 19th and Garfield Streets.