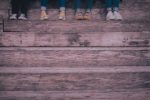 "Don't Judge Me"
November 3-5, 2017
St. Andrews Lutheran Church & Campus Center
Laramie, WY
Registration is open for Youth Breakaway 2017. "Don't Judge Me." A study of three judges.
Cost is $35, due upon arrival. Register at https://standys.typeform.com/to/lXvctx
First 26 to register will go to the Cowboys football game.