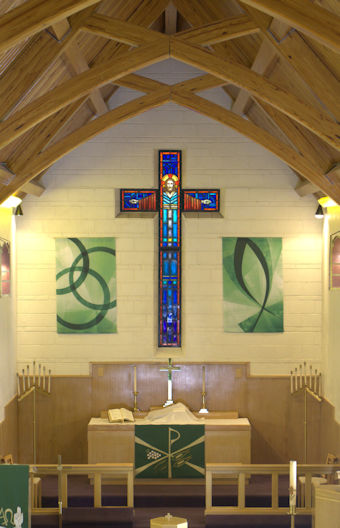 Zion Evangelical Lutheran Church
406 S. 19th St.
Laramie, Wyoming  82070
(307) 745-9262
lcmszion@gmail.com
Parking is available on Garfield, 19th, and Custer Streets or Rainbow Avenue.
Regular Worship Schedule
Sunday Worship Services at 9:00 a.m.
Sunday School and Bible Class at 10:30 a.m.
Visitors Welcome!
Members of Zion invite you to gather with us as we receive God's gifts of forgiveness and salvation through His Son, Jesus Christ.
Our worship is formal and traditional. Our liturgy in the Lutheran Service Book is based on Holy Scriptures: we say and sing back to God words He has given us. The order of service is printed in our bulletin, and members are ready to help guests follow along.
Zion celebrates the Lord's Supper every Sunday. We practice closed Communion. If you belong to a sister congregation of the Lutheran Church-Missouri Synod and wish to commune, please introduce yourself to the pastor or a deacon before the service. If you are not a member of a congregation of the LCMS or one of her sister church bodies scattered throughout the world, we kindly ask you to respect our policy and refrain from communing.
Children are welcome in our services. Parents may take an inconsolable child to our cry room, situated at the rear of the sanctuary.
Zion offers Personal Listening Systems to our members and guests who have hearing loss. Four systems are available in the Narthex (church entrance) for those who may need them during the worship service. Ear buds are cleaned weekly!
Following the service, we invite guests to join us as we gather for fellowship and Bible study. Children have snacks and Sunday School in the basement, while our pastor leads adult Bible study in "The Room." Teen studies are usually topical, or teens may join the adults study.
If you desire more information about the Lutheran Church-Missouri Synod, seek to be baptized or desire to be taught, please contact the church office at 307-745-9262 or use the form below.